Are you having trouble lifting things? Is your shoulder range of motion limited? Is your shoulder pain keeping you from your day to day activities?
Shoulder pain is a common complaint seen in chiropractic offices. There are many reasons a patient may complain of shoulder pain. Some causes of shoulder pain are a pinched nerve int he neck or mid back, rotator cuff bursitis/tendinitis, rotator cuff tear, impingement syndrome, frozen shoulder (adhesive capsulitis), subacromial bursitis, and arthritis.
There are four muscles that make up the rotator cuff of the shoulder, the SITS muscles. Supraspinatus, Infraspinatus, Teres minor, and Subscapularis muscles. These muscles can be inflamed, strained, or torn, resulting in shoulder pain.
Signs that a patient should be evaluated by a Chiropractor for shoulder pain include: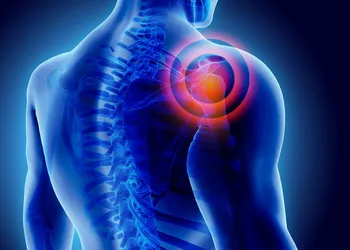 Swelling, redness or warmth around the shoulder.
Not able to raise your arm or lift objects.
Shoulder Pain lasting more than three days.
Numbness, tingling, sharp, shooting, achy, or stabbing pain in the shoulder
Depending on the diagnosis of the shoulder pain, chiropractic treatment may include rest, ice, and heat, stretching/exercise, therapeutic ultrasound, muscle massage, taping, and chiropractic adjustments.